Books
Integrative Medicine Bietigheim-Bissingen near Stuttgart & Ludwigsburg
Besides the numerous specialist lectures held by Dr. Kreisel at home and abroad and the variety of articles he wrote for medical journals, he published several books and cooperated in another book as a guest author. Here you will find an overview and more information on the contents of books authored by Dr. Kreisel. Of course, you can purchase these books. Please follow the navigation.
"LASER FIELD THERAPY – The Pioneering Technique of Laser Photo Therapy with the next Generation of Resonance Frequencies"
Volkmar Kreisel, Anja Füchtenbusch, Peter Rosin
Laser Field Therapy (LFT) is a new technique of laser photo therapy (LPT). In it, the primary resonance effects of LPT over the mitochondrial respiratory chain are combined with secondary effects through coherent information fields. Laser field therapy works with a completely new generation of natural resonance frequencies and new application techniques.
Besides photobiomodulation, the aim of LFT is to strengthen the body's own MEM fields, for which only natural resonances and so-called sweeps – i.e. physiological spectra and not individual frequencies – are used. In combination with the new systemic application techniques presented here for the first time, LFT extends the treatment spectrum of LPT by a new and exciting dimension, both therapeutically and diagnostically.
The team of authors has many years of therapeutic experience in human and veterinary medicine and heads the COLLL (College for scientific Laser Photo Therapy) and its research team, whose investigations and experience have been included in the therapy recommendations in this book.
"Hilfe bei AMD – Die integrative Therapie der altersabhängigen Makuladegeneration"
Ein Ratgeber für Betroffene – 2. Auflage
Volkmar Kreisel
Only available in the German language
Age-related macular degeneration (AMD) is a damage of the retina at the point of sharpest vision, the macula. It can lead to severe impairments of visual functions up to loss of sight. Approx. 4 million people suffer from AMD in Germany. So-called "Best Ager" (Generation 50+) have the highest risk of developing this disease and approx. a quarter of all people over 65 years show signs of AMD.
If your ophthalmologist gives you the diagnosis AMD, your are mostly left helpless as this disease is considered as non-influenceable. The fate of increasing dependence on others seems unavoidable.
This book tells you how you can certainly do more to sustainably preserve you visual functions and independence. In his book, Dr. Volkmar Kreisel describes for those affected:
How to detect AMD and how to minimize the risk of developing AMD
Chances of advanced, integrative therapeutic approaches
Practices and exercises allowing you to achieve a great deal
"Laser Acupuncture: A Practical Handbook – Successful Treatment Concepts"
Volkmar Kreisel, Michael Weber
This relevant book is the perfect introduction into laser acupuncture and an ideal companion in daily practice. Whether you use a laser pen, a laser shower or a laser needle, all techniques are adequately considered in this book for the first time. Pediatrician Michael Weber and anesthetist Volkmar Kreisel combined the knowledge of TCM with the findings of conventional medicine and laser physics and published an extremely practical guidebook. In addition to an easily readable theoretical part considering the growing number of positive scientific findings of low level laser therapy, also the practical part is fully convincing. In this part, the reader profits from the authors' extensive expertise and is gradually introduced to laser acupuncture.
For each individual indication, the reader is exactly advised about recommendable treatment parameters such as therapy time, dosage, frequencies and which points are to be chosen. Also accompanying measures such as herbal therapies are taken into account. Praiseworthy is the authors' description of choice and purchase of laser devices up to possible billing options for patients. Also necessary economic aspects are adequately considered. The book has many illustrations. More than 200 spreadsheets, a dosage card and drawings provide for better clarity and facilitate fast access to important facts.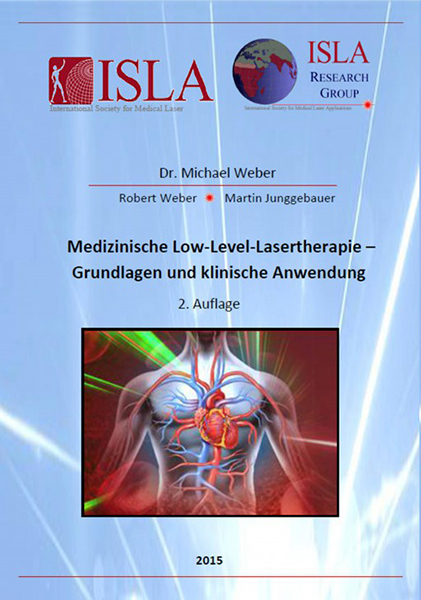 "Medical Low Level Laser Therapy – Foundations and Clinical Application"
Michael Weber, Robert Weber and Martin Junggebauer, guest author Volkmar Kreisel, ISLA, Research Group 2015, 2nd edition
This book intends to give an overview of both the scientific fundamentals of medical low laser therapy and the current status of clinical researches. Moreover, different treatment techniques of low level laser therapy are introduced in a comprehensive practical section to give the reader useful tips for daily work for the benefit of the patient.